This article contains affiliate links and we will be compensated if you purchase something after clicking on them.
Check out our review guidelines.
I've been night snorkeling and diving for years (sometimes alone), and I'm willing to spend a little bit of money on a dive flashlight because you really have to trust the technology–especially when you're diving–when you're snorkeling a hundred metres offshore on a moonless night.
I've had a cheap light die out on me as soon as I hit the water–once in the middle of a night snorkel (it's very stressful).
That's why my below list only showcases good quality lights. My criteria for a good dive light includes:
Run time
Power
Light color
Size
Lightweight
Easy to cycle
Even if you don't even up finding anything that suits your needs or budget on this list, I urge you to stay away from any flashlight (dive light or otherwise) that advertises massive lumen output for next to nothing.
There is no such thing as a 10,000-lumen flashlight for $30.
---
If you would like to start reading comprehensive breakdowns of each flashlight I've reviewed, they begin below.
---
Why the ORCATORCH D710 Scuba Diving Light?
Why? The ORCATORCH D710 is the best combination of power, price, reliability and value.
You get 1 hour and forty minutes of 1700 lumens (which is really good for a compact light), it's under 200 bucks, it's made of anti-corrosion aluminium alloy with a titanium push button, and the manufacturer includes two USB rechargeable 21700 C Li-Ion batteries (and a few other handy accessories) with the dive flashlight.
That said, even though I'd go with the ORCATORCH D710, there are plenty of dive flashlight options that you can feel good about purchasing and using and some which might make more sense for certain use cases. I'll also cover those so that you have various options based on what you need/what you're willing to spend.
---
The features that make the D710 worth buying are:
Brightness
Well-made
Light functions
Accessories
Brightness
The D710 is a good compromise between price and power.
If you're looking for something well-made, reliable and with good battery and power metrics without breaking the bank, this is a good option.
It provides more than enough illumination for the vast majority of dives you would need a flashlight for–night, cave, technical, wreck, muck.
This dive flashlight claims to put out 3000 lumens (which it does for around 1 minute), but you actually get 1700 lumens for 1 hour 40 minutes and the ratio of lumens output to duration changes as you decrease the power mode.
Still, more than enough light over a longer run-time than any one standard dive.
Plus, the manufacturer throws in two 21700 lithium-ion batteries for you (bigger and more powerful than the standard 18650), which you can charge and take with you if you're planning on doing multiple dives or snorkeling sites in a single evening.
It also saves you from having to buy these pricey add-ons.
Well-made
Anything you put in the ocean needs to be well-made with appropriate materials if you expect it to last. The D710 has an anti-corrosive aluminum alloy body with a titanium alloy side push button.
The battery compartment is also sealed with replaceable triple o-rings (and the light comes with replacements), which the manufacturer recommends you lubricate with silicone after each dive.
I've never gone to that extent, but I have relubricated.
Light functions
Light functionality is important in a dive flashlight because you need to be able to adjust the style and intensity of the light on the fly–for photos, for changing conditions, to conserve power, etc.
The D710 has several levels of illumination which you selected using the sealed titanium button.
I like this set-up far better than other "twist" dive lights I've had in the past because it eliminates the endless and annoying cycling through intensity levels.
It also has a safety lock which is activated after holding the button down for five seconds.
This makes the D710 ideal for travel (I've had lights turn on and drain batteries in my backpack before).
Accessories
The D710 is certainly not the cheapest dive flashlight on the market, but ORCATORCH has included a good number of accessories, so you feel like you are getting value for your money.
Two spare 21700 Li-Ion batteries, a lanyard for your wrist so that you don't risk dropping the light into the depths, a carrying case, spare o-rings and a charging cable.
Why You Still Might Prefer a Different Light
A relatively narrow beam (6 degrees) is this dive flashlight's biggest demerit. It's not the end of the world, and fine for photography, but a larger field of illumination is definitely nice to film with.
Still a great little dive light that you can feel confident in.
---
Best Dive Flashlight for Lightweight Power: SEAC SZ5000–4200 lumens, 12-degree beam
SEAC is one of the most trusted names in dive sports, and you can expect the same quality in their dive lights that you would get in their fins, masks, and other diving gear.
The features that make the SEAC R5000 worth buying are:
Second-to-none power
Triple LED
Size-to-power ratio
Battery life
Second-to-none power
You probably aren't going to want to use the max power setting because there isn't really any situation that calls for 4200 lumens (I've used 2000+ lumen flashlights and headlamps and they are insanely bright).
In fact, if you are using the light for photography purposes, shining a 4200-lumen light in an animal's eyes is not ethical.
The SEAC R30 light (the predecessor model) emits 1500 lumens (the R40s minimum output) and it is already crazy bright. Imagine the SZ 5000.
Triple LED
The triple LED lights behind tempered glass are nice because they give you a lot of control over the beam focus on this dive flashlight–which is nice for different purposes.
You might want a wider field of view if you're scanning the reef for life and a narrower one if you are trying to make sure the coast is clear well up ahead (or, god forbid, you're looking for a dive buddy that you've lost sight of).
Battery life
The SZ 5000 uses a 7800 mAh (millampere hour) battery, which is actually a parallel connection of three 18650 li-ion batteries in a series.
It greatly increases the voltage/amp hour capacity and allows the SZ 5000 to hold a CRAZY charge as far as lithium ion batteries go.
It also gives you 2.5 hours of run time on the minimum (1500 lumens) setting and a full hour at max setting. What's more, you get all of this in a package that weighs just 1.1 pounds and measures 4.7 inches long.
Why you still might prefer a different light
While this is a quality dive flashlight from a quality manufacturer and it's a trustworthy piece of kit you would be happy to have.
It is the second most expensive on the list and the fact that it requires such a massive battery means you should consider what it will cost to replace and buy backup batteries.
---
Best Backup Dive Light: Kraken NR-650–650 lumens, 10-degree beam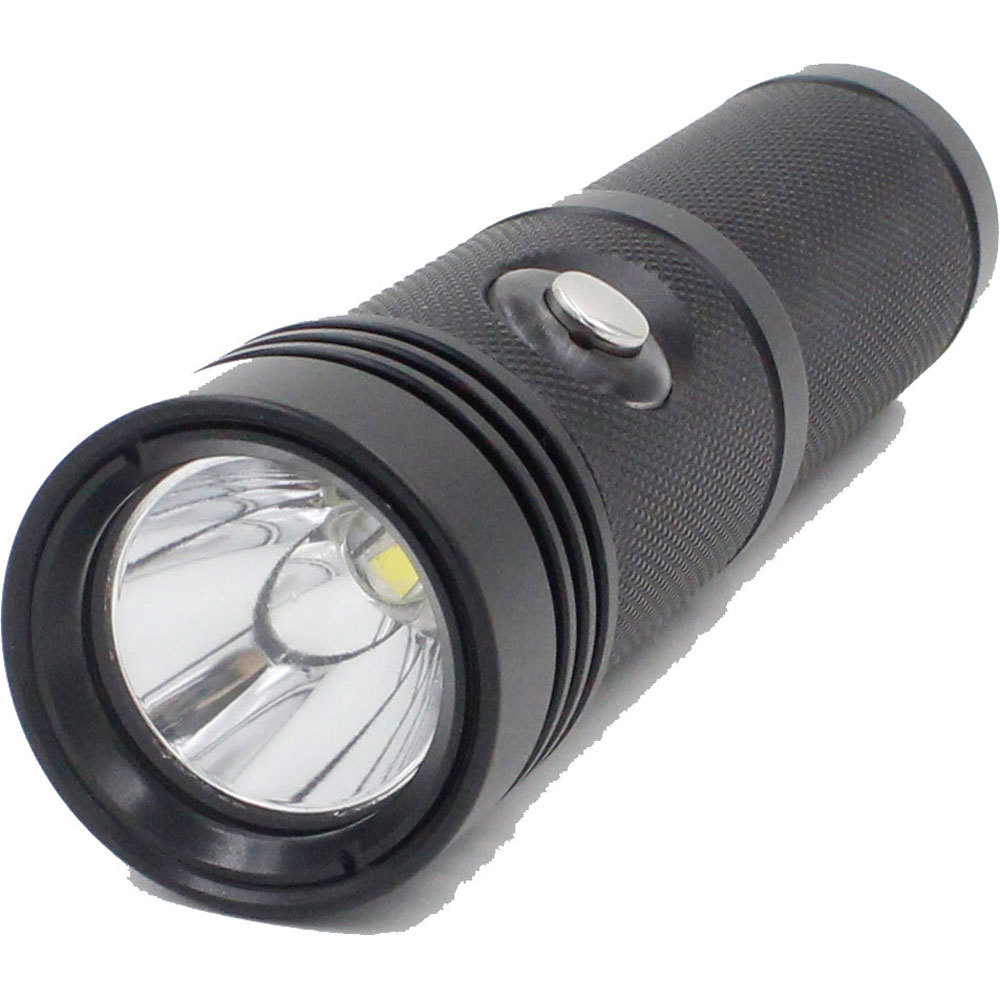 As I mentioned, I've had a light go out on me before and it was an uncomfortable experience. I wish I'd had a backup dive light at the time and there's a good reason professional divers and dive shops always do.
The features that make the Kraken NR-650 worth having as a backup dive flashlight:
Versatile battery options
Good brightness for the price
Affordable
Battery level indicator
Versatile battery options
The NR-650 is a nice backup dive flashlight because you can power it using a few different means. It takes lithium ion 18650 batteries, lithium ion CR123A or AAA batteries.
I really like this for travel purposes because, in the event you lose or damage a Li-Ion battery (which are often very hard to replace outside of Europe and North America), you can at least substitute triple-A alkaline batteries which are available everywhere.
Keep in mind, however, that the AAA batteries only last 90 minutes at 650 lumens, compared to two hours for the Li-Ion batteries.
Good brightness for the price
I've used less powerful dive flashlights and found them to be just fine as both a navigation tool and something to explore and look around with.
You could have a 650-lumen light as your primary light, depending on what kind of snorkeling or diving you're doing, although I would definitely want something more powerful and with a longer battery life for technical dives or potentially very risky cave dives.
Affordable
Kraken is a very reputable brand, and the NR-650 is no slouch.
You get this dive light for well under a hundred bucks, and it only weights 0.35 pounds, so it is something you can easily carry on you without feeling it (until you need it).
Battery level indicator
If you're using your backup light, then that's it.
If that goes out, you have no more light, so it's nice that Kraken has included a battery level indicator to let you know when you're at full, half and quarter battery.
It also has a handy SOS feature that you can use to signal other divers if you're in need of assistance.
Why you still might prefer a different light
The power button on this light is a push and hold, which means there is a bit of a delay when turning it on.
If you're resorting to your backup light, the stakes are higher, so anything that makes you question whether a backup dive flashlight is working might be more panic than you can stand.
---
Best Power Hybrid Video-Dive Flashlight: Big Blue VL4200P Video Light–4200 lumens, 120-degree beam
Most people invest in a dive light for both navigation and video purposes.
Anyone who has tried to shoot underwater video at night knows it can be hard to record and illuminate at the same time, which is why the Big Blue VL4200P Video Light is a nice hybrid option.
The features that make the Big Blue VL4200P a hybrid dive light worth investing in:
Power
Accesories
Extra wide beam is ideally suited for video
Battery life
Power
Like the SEAC, the Big Blue produces 4200 lumens, which is overkill for virtually any situation, but there is a range of power settings you can cycle through.
At the lowest setting, for example, you get 15 hours of 420 lumens.
Power level two puts out 1050 lumens, level three 2100 lumens and finally at level 4 you get the full 4200 lumens for one and a half hours.
Accessories
The Big Blue VL4200P comes with a ball mount that allows you to mount it on a variety of different camera housings, inclusing GoPro, a dry bag, and a yellow light filter.
Big Blue also makes a wrist mount that I prefer to the ball mount because I've always found it easier to adjust the position of my hands to tweak the lighting than to tilt the camera because you alter the entire shot when you move the camera around.
The glove isn't included, but you can get it here.
Extra wide beam is ideally suited for video
120 degrees is a massive beam spread which is ideally suited for shooting video in dark or poorly lit conditions. I've missed or flubbed so many great opportunities because I haven't had enough beam spread to adequately capture a scene or an animal.
If you're swimming and shooting at the same time and want to capture as much of your surroundings as possible, the 120 degree beam will be a game changer.
Battery life
The Big Blue VL4200P uses a 32650 lithium-ion battery, which is one of the largest cylindrical rechargeable lithium batteries on the market.
This is why this dive flashlight gives you 15 hours of 420 lumen output, 6 hours of 1050 lumens, 3 hours of 2100 lumens and 1.5 hours of 4200 lumens.
I've been using high-power lithium ion batteries in both terrestrial and dive flashlights for years and 6 hours of 1050 lumens and 3 hours of 2100 lumens is pretty crazy.
Why you still might prefer a different light
In a word: pricetag.
This is definitely a step up in price from the other dive lights on the list, but you are getting something quite a bit more impressive in terms of output and beam.
It's also the biggest dive flashlight on the list. Weighing in at 2.15 pounds and measuring nearly a foot long, this isn't something you can just tuck away in a BCD pocket and forget about.
Its a pretty sizeable piece of kit, and would almost certainly be your primary light, but if you are serious about shooting underwater video, it's hard to beat.
---
Best Deal: ORCATORCH D530 – 1300 lumens, 8- degree narrow beam
The best deal you can get on a dive flashlight has to be the ORCATORCH D530.
It puts out an impressive amount of power for the price and is made by a company with a great reputation in the dive industry.
The features that make the ORCATORCH D530 a worthy dive flashlight for those who don't mind compromising a bit to get the best deal:
Compact
Great power and battery life for the price
Beam distance
Good backup light option
Compact
At just 8.6 inches long and weighing in at 136g (excluding the 18650 lithium ion battery), it's a light that packs and travels easily. If you are looking for a dive light that economizes on space without sacrificing much power, the D530 is a really nice option.
Great power and battery life for the price
At full output (1300 lumens), you get 1 hour and 25 minute of battery life out of this dive flashlight. At the lowest power setting you get 220 lumens for 4 hours and 30 minutes.
You will also find the power indicator lights very useful–green when the battery is >70% charged, amber between 30 and 70 and red between 10 and 30%.
Beam distance
On land, the D530 projects light 291m, which will obviously not travel as far underwater, but still, quite impressive for this affordable little light.
Good backup light option
The price-to-power ratio makes the D530 a good backup light alternative to the Kraken above.
It's small and light enough that you can easily keep in on your during a dive or snorkel, but powerful enough that you feel comfortable using it in the event your primary dive light runs out of batteries or malfunctions.
Why you still might prefer a different light
The comparatively narrow beam and relative lack of battery/power. While the beam travels quite a distance and works very well as a navigational/explorational tool, its 8 degree spread is small compared to other lights on the list, which means you illuminate far less while filming or shooting.
Furthermore, while 1300 lumens over the course of 1 hour and 25 minutes should be enough to cover most single recreational dives, a single 18650 lithium ion battery can only hold so much charge and produce so much power.
---
What went into my dive light buying guide
I've been snorkeling and diving at night for years, and visiting the underwater world with a dive light (especially the tropics) is one of my favourite nature and wildlife experiences.
If you can get over your fear of the unknown while scuba diving or snorkeling at night, experiencing nocturnal life underwater is one of those things that makes time stand still and that quickly becomes addictive.
I'm also a big fan of wreck dives, which also demand a good quality dive light.
Having a reliable light to help you navigate narrow spaces and potential hazards while diving in confined areas is essential.
In addition to my own diving and snorkeling experience using dive lights and having used several lights over the years, I also spent a lot of time browsing dive industry comment sections and forums, as well as talking to my snorkeling and diving friends about what features are more important in a dive light.
---
What makes a good dive light?
When choosing a dive torch, I'm always selecting for a handful of qualities:
Lithium-ion rechargeable battery
Burn time
Light color
Compact
Lightweight
Easy to cycle
Size
I want a dive light that uses a high output lithium-ion rechargeable battery (e.g., an 18650 Li-Ion battery) that is going to give me the lumens output I want so that I can spot creatures and hazards.
I also want a light that is going to have multiple power options and respectable power output even at the lower levels.
Ideally, I want a light that includes a battery (and maybe even a second)
I want a light with at least a couple of hours of burn time on the highest (or one of the high) setting.
I want a torch with either white or yellow light (and preferably the option to choose) based on the environment that I'm snorkeling/scuba diving in and the kinds of underwater photos I want to take.
I want something compact that fits in my hand nicely and whose size won't be an issue while manoeuvring in narrow spaces.
I want a lightweight dive light that I can store easily in my BCD pockets that I'm not going to feel while swimming.
I want a dive light that is easy to cycle, with a reliable battery level indicator (if it has one) and an emergency strobe feature in the event I need to signal to another diver or someone on shore that I'm in trouble.
Or, if I've seen something cool and want to share it with people
---
Why a dive torch is a nice investment
For me, a dive light is one of those great pieces of lightweight equipment that makes underwater photography easier and technical diving safer.
With the right dive light in my hand, I have felt much more comfortable on wreck dives, much more at ease underwater at night, and have had a lot more success spotting marine life while snorkeling and scuba diving.
---
Tips for Using Dive Lights
Each dive light has its quirks and tricks, and it can take a bit of time to familiarize yourself with things like burn time, beam brightness levels, strobe functions, its weight in your hand etc.
A few things I would recommend you do with each new dive torch you test or buy:
Understand beam brightness before taking it in the water
Know how much burn time a dive is going to require
Be able to quickly navigate to the strobe setting in the event of an emergency
Test how reliable the waterproofing by submerging your light in the sink or bathtub.
You want to make sure that the battery compartment is watertight, all the beam settings work, and that the light is all-around reliable before putting it to work in the field.
Scuba diving and snorkeling safety means knowing your gear works before trusting your life with it.
The dive lights I've recommended on the above list are all made by reputable manufacturers and they all have overwhelmingly positive reviews from other divers, but you still always want to play it safe.
You really don't want to be several metres underwater or a hundred metres from shore while snorkeling in the pitch black.
---
Conclusion: Why the ORCATORCH D710 is the Best
Because it's the best combination of price and power (21700 battery as opposed to the 18650 you would generally get in this price range), comes with a spare battery (li-ion batteries aren't cheap) and other accessories (lanyard, carrying case) and functions well as either a primary or backup compact dive light.
For the money, the ORCATORCH D710 is the most well-balanced dive flashlight you can buy.
Check out and buy the ORCATORCH D710 dive light here.
If the ORCAHTORCH D710 didn't speak to you, I hope you were able to choose an alternative from the list.
Other Similar Reviews