Written by
Alex Gillard
Since 2015 I have been a freelance writer and wildlife photographer, working out of some of the planet's most spectacular wildlife and nature travel destinations–from the Amazon to Raja Ampat–diving, snorkelling, fieldherping, birding and photographing my way around the world.
This article contains affiliate links and we will be compensated if you purchase something after clicking on them.
Check out our review guidelines.
It's hard to rank dive gear in order of importance, but I would definitely put my BCD at the top of the list.
Your BCD (buoyancy control device or buoyancy compensator) is what helps you control your negative, neutral (or near zero inherent buoyancy) and positive buoyancy, which is a fundamental part of staying safe in the water and having the best experience possible while diving.
Why it makes sense to invest in a good BCD
It makes sense to buy the best BCD you can afford because your BCD influences:
How focused you can be in an underwater environment.
How efficiently you use your air.
How confident you are making buoyancy adjustments on the fly.
---
If you would like to read the full review and breakdown of the best BCD, it begins below, followed by a list of other options that I think are worthwhile investments.
---
The Cressi Travelight is the best BCD on the market right now and my favourite among the many that I've tried out over the years.
Designed specifically for travel, this is the best BCD overall because of how lightweight it is, how durable it is, how convenient it is to use integrated weights with and how well it stands up to rough environmental conditions, including colder seas.
It's very well-priced for how deep its list of features is (something that other travel-oriented BCDs tend to struggle with). A very lightweight but comprehensive piece of dive gear that any traveling diver who likes bringing their own stuff would be happy to own.
Very widely used
I would say that the Cressi Travelight is the best BCD on the market for the vast majority of recreational divers–advanced divers and new. This has to be one of the most popular BCDs used by dive shops, in my experience, and it's one that I've seen and used all over the world from Aruba to Egypt.
While this has to be one of the lightest jacket-style BCDs out there, it is lightweight not because Cressi has done away with essential features like padding, clips and pockets, but because they have really put a lot of thought into the materials.
Comfort
This is a very comfortable BCD and you could easily wear this over a simple rashguard or zip-up wetsuit top in warm waters. Just feeling it you can also tell that it's durable enough to survive scrapes and bumps on deck and below the surface.
If I had to rank the features that make this the best BCD for my money, I would have to say comfort rates at the top.
The internal backplate is nicely-padded and foldable, and the hydrodynamic design hugs your body gently but snugly during a dive.
The more rigid, exposed backplate BCDs tend to require a wetsuit in order for you to remain comfortable. I used the Cressi Travelight on a shore dive in Aruba in 2021 and one of the things that really stood out was that, unlike some of the other lightweight BCD options on the market, the Travelight was still a pleasure to wear even while wearing my tank and fully weighted.
Feature-rich
As far as features go, the Cressi Travel light is my best BCD choice because it has everything any recreational diver would want.
This includes a doubled-up tank band to keep your tank extra secure, a solid integrated weight system, roomy storage pockets on either side and robust attachment points galore. If you take a lot of gear with you (photography, spearfishing etc.), this is a great piece of equipment.
The Travellight weight pockets make a very conspicuous clicking noise when you place them correctly and the rear trim pockets are conveniently located for optimum weight distribution.
Functional
I really like how effortlessly you can maintain an upright position in the water, as opposed to many other integrated weight belts and BCDs, which can make you feel rather bottom-heavy.
When I first tried this BCD out, I was a little skeptical of the fact that the weight pockets are actually inside of the storage pockets, but the storage pockets are still very easy to access and utilize.
The fact that the Travelight has full pockets is another of the reasons that this is the best BCD IMO. I often find a wing style or hybrid BCD lacking in pocket space.
All in all, the Cressi Travelight is my overall best BCD pick because it's full of features, lightweight, comfy, is great for divers with a lot of photography and other gear, all while still being quite affordable.
Any recreational diver, new or veteran, would be happy with this.
---
Other Great Options
While the Cressi Travelight is the best BCD on the market overall, there are others out there that are also great and might make more sense for different dive needs.
They are:
---
The Aqua Lung Zuma is the best travel BCD because it is extremely light, weight-integrated, features back-inflation and makes it easy to move your arms and has done away with unnecessary bulk.
This is the best BCD for divers who travel to warm dive locales on a regular basis because it can be packed flat or even rolled up if you like.
This is an excellent option for divers that want something simple, refined, and lightweight that is still very comfortable. The wing-designed rear inflation is a nice touch because it ensures a stable trim while in the water.
---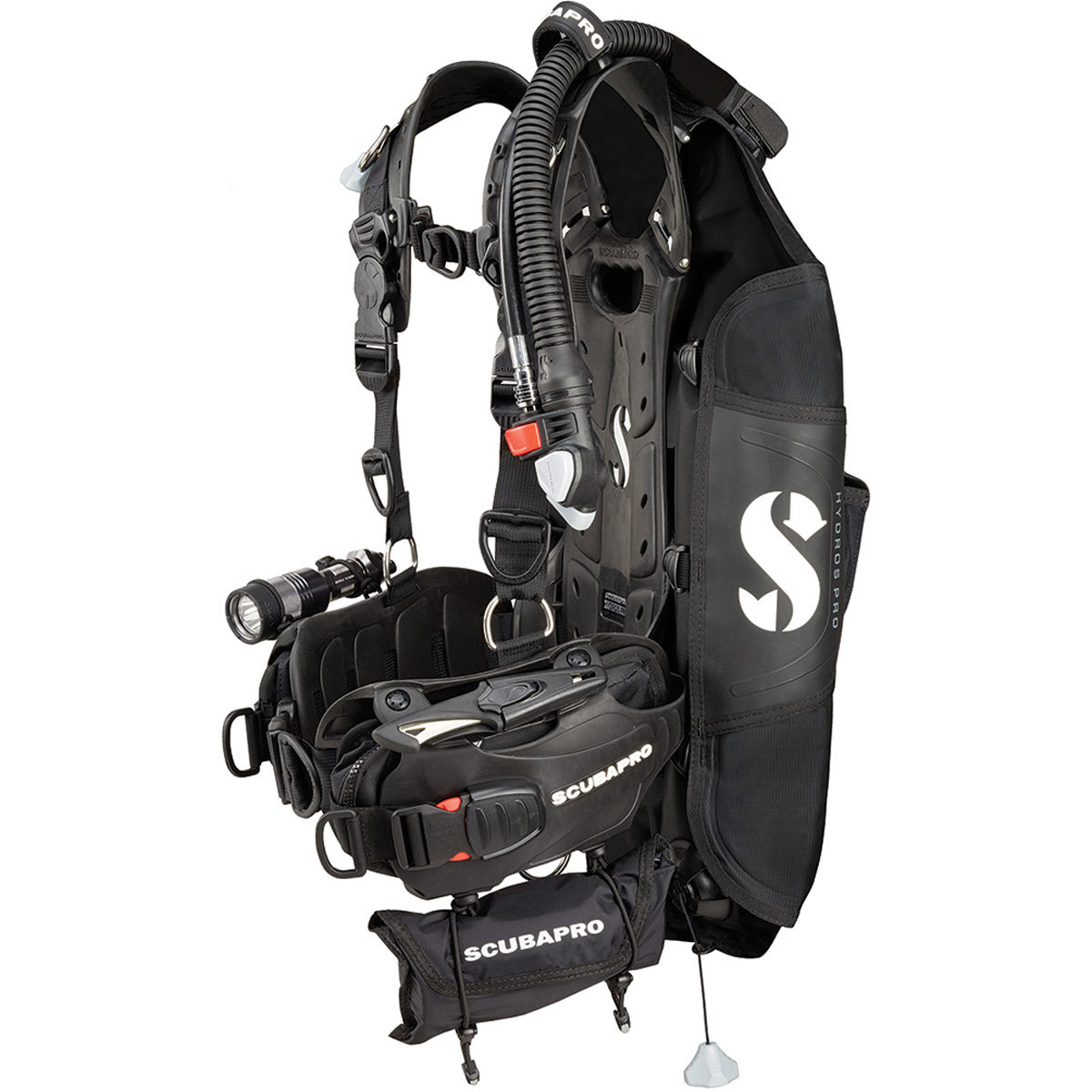 This is definitely one of the more expensive BCDs out there, and it shows.
For anyone worried about the wing design, Scubapro has found a way to make sure that the air is always near the release (bungees all along the side), which is nice because some wing BCDs can be tricky to deflate.
I also like that it uses a monoprene gel harness instead of padding. The rubber flexes well and feels quite comfortable.
The downside is that the lack of padding on the back means you can feel the tank which, if you're doing a bunch of dives in a single day, could become tiresome.
There are also no quick-release pockets. Don't really understand Scuba Pro's logic on that; almost all other BCDs on the market have that.
I also really like that Scubapro has made it so that you can swap out pretty much every component of the BCD. You really don't have to buy a new BCD ever again if you own this.
An expensive piece of gear, but one with a ton of really thoughtful engineering that went into it, easy to pack and take with you, and one that you will have for life.
---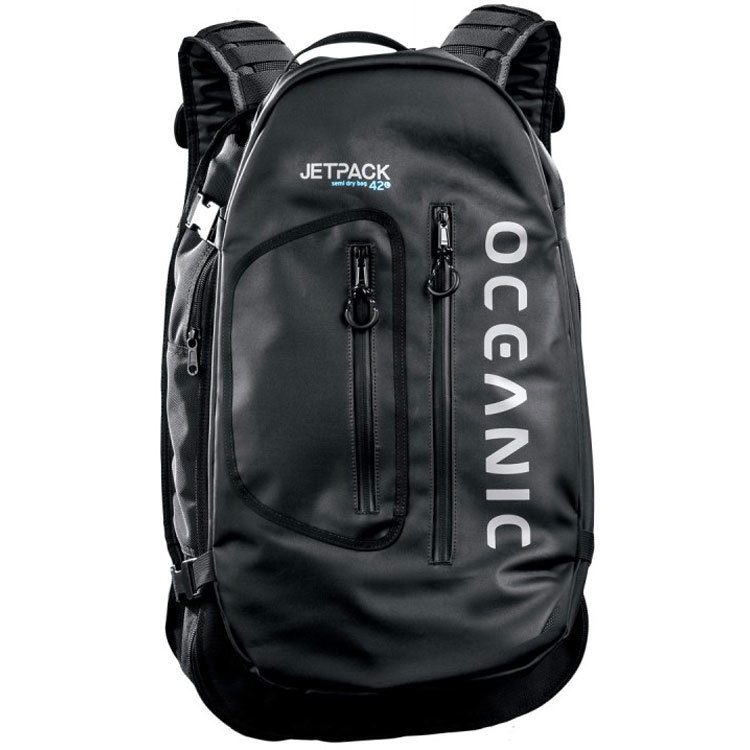 The Oceanic Jetpack is a fantastic little weekender BCD. It's fully adjustable and (my favourite part) can be used as a semi-dry backpack that you can load your scuba gear into.
Scuba diving and dive sports aren't really low-tech sports if you're doing them right, but the Jetpack does a good job of making it a reality.
The Jetpack is one light, comfy and robust wing-style BCD with integrated weights. It's usefulness as a carry-on backpack is quite impressive.
At 42 litres, there is ample room and compartments to store your soggy gear away from dry clothes. This is the best BCD for weekend getaways or impromptu dive trips when you don't want to go to the trouble of packing and readying something bigger and bulkier or even if you just want to be able to hop on a plane without have to pick anything up at the baggage claim.
---
The Oceanic Excursion 2 is a tech-enabled, full-feature BCD with roomy pockets and good lift capacity while still giving you excellent freedom of movement.
The major upside of a wing-design BCD is that you have really good stability in the water thanks to the back inflation and you don't have to deal with clutter at the front.
Oceanic's Excursion accomplishes all of this with ease while still providing you with two large storage pockets for any extra gear you might need.
I used the Oceanic Excursion for the first time in Thailand, and I was really impressed by the comfort.
While it is definitely bulkier and heavier than the travel options in this guide, it was engineered to feature the additional lift capacity and sturdy metal D-ring attachment sites that tech divers tend to like better.
---
What Went Into My Selection Process for the Best BCD List
I've been diving and dawning BCDs for years and I've worn and owned a lot. Because I spend most of my time underwater taking photographs and videos, buoyancy control and easy gear access are very important to me.
I know what I do and don't like in a BCD and I like to think that I've tried enough to know what to recommend both experienced divers and those who are just getting into the sport. In short, I feel like my recommendations for the best BCD carry weight.
---
Main Evaluation Criteria to Choose the Best BCD
The first step was to peruse all of the most popular and widely beloved models from the most trusted brands in diving to create a short list of the best BCDs out there.
In addition to my own experience and opinions on what constitutes the best BCD, I also spent hours reading, watching and participating in discussions with fellow divers.
Especially helpful were the many manufacturer videos, tutorials and breakdowns.
I very much like the tutorials and breakdowns from channels like Simply Scuba, which do a commendable job of giving you the straight goods on new products and I like the unboxing aspect because you get to see what your BCD is going to look like fresh out of the box.
---
Understanding BCDs So You Can Make the Best Purchase Decision
A scuba BCD, in theory, is a fairly straightforward piece of your dive gear.
It is essentially a jacket/vest-shaped air bladder contained within heavy duty nylon. It also has pockets, exhaust valves, a power inflator, an integrated weight system and a super cinch tank buckle.
Depending on the model you get, it will feature different mounting grommets, D ring setups
Unisex by design, they use shoulder straps, a waist strap, a crotch strap and an adjustable sternum strap system.
There is a ton of engineering and detail that goes into this essential piece of scuba diving gear.
Below are some of the major features and considerations to keep in mind when you are trying to find and select the best BCD for you.
Wing BCD or Jacket BCD
There has been a surge in wing-style BCDs in the scuba diving community over the last little while, due in large part to the fact that they are lighter and therefore more convenient to travel with, but they tend to also be unisex because the harness has an adjustable sternum strap.
The actual jacket part of the BCD is standard and isn't made to fit different-sized bodies (it's just the straps).
Jacket style BCD
A Jacket style BCD is the most common BCD you'll see and is used for the majority of recreational dives.
They have inflatable waists and large pockets, as well as straps with stainless steel D Rings to add accessories, which is why I think they are the best BCD style.
I've used both and I would probably say I prefer a jacket BCD to a wing-style BCD because I find them to be more comfortable while chilling on the surface.
My experience with wing-style BCDs is that they are not as great for remaining upright while on the surface. I'm also a fan of large cargo pockets (especially two large zippered pockets) and more spread-out weight and air distribution.
Wing-style BCDs
I do like wing-style BCDs, however, because they tend to provide better buoyancy while on your back.
They also, as previously mentioned, tend not to have the large pockets you find in a jacket BCD, so they are lighter and easier to travel with.
I don't mind that these are better suited for horizontal buoyancy, although I definitely feel more comfortable being upright.
I've heard other divers say that wing-style BCDs can make it so that you are forced to stay face-down while at the surface, but if you find yourself in this position, you likely just have too much air in your BCD. Deflate, lean back, and it should solve the problem.
Shoulder Straps/Chest Straps and Waistband
These are important considerations when trying to find the best BCD for a man or a woman. The straps and waistbands are made to suit a variety of body types and are adjustable.
The chest straps are made to be secure and cling to your shoulders, especially the narrower shoulders of most women.
Your BCD Hose
The vast majority of BCDs come with an inflator hose that you use to control how much air is in your BCD. Usually, this hose goes across your left shoulder and connects to the BCD's inflator port.
The inflator hose has a manual inflation mouthpiece in the event that the hose malfunctions and can't deliver air to the BCD, as well as a deflation button.
This is more or less a universal design, with the option to get special buttons that give you more control over how much air you are adding to or subtracting from your BCD:
Some of the newest BCDs have not started to use a toggle system instead of a button. It's quite simple to use, just push the toggle in one direction to inflate the BCD and the opposite direction to deflate.
Dump Valve
All BCDs feature dump valves that expel air. They are controlled by a toggle that you pull which releases the valve. In order to ensure your BCD doesn't over-inflate, there will always be a spring-loaded valve(s) that releases air once the vest is at full capacity.
Because air is lighter than water and, therefore, moves upwards, you are meant to use the highest dump valve on the vest relative to your position in the water:
The inflator hose dump valve is a feature on most contemporary BCDs and this is the one you should use after you have first hit the water and started to descend.
The Kidney dump valve is located on your lower back, and this is the one most commonly used to expel air while swimming horizontally below the surface
The should strap valve is best employed when you are in a vertical or trim position in the water.
You definitely want a BCD that has both kidney and shoulder dump valves because you need to be able to optimize your adjustments depending on your position in the water.
For instance, if you're diving into a wreck and find yourself swimming through tight squeezes like hallways or doors, staying horizontal and trim is important so that you don't touch or scrape up against the walls, adding silt to the water and potentially hurting yourself on something rusty/sharp.
Your BCD's Integrated Weight System
When we talk about integrated weight pockets with a BCD, we are referring to a system in which you insert the weights into the BCD and then utilize a quick release to drop them.
Female divers often prefer releasable weight pouches because it means the weights aren't chaffing against their hips. Integrated weights are secure and aren't going to tumble out unless you pull on the BCD's quick-release strap.
There are two common integrated weight systems:
Pouch weight pockets (removable weight pockets, external weight pockets or trim weight pockets)
These are literally pouches that you fill with lead that are then inserted into the waist pockets of your BCD.
If you want to release these pouch weights, you simply tug on the emergency fast release tab that removes the pouches.
This system is nice because it allows you to pass off your weights to someone on the boat once you've surfaced, much as you would a classic weight belt.
Gravity mechanism weight pockets
This system involves placing weights right into your BCD, and the pouches will feature a fast release that uses gravity to drop the weights in an emergency (i.e., if you need to ascend).
This is a nice system because you are getting rid of only the weights, not the pouches themselves.
The con of this system is that they are more difficult to pass off to someone on a boat or dock at the end of your dive. You're probably going to have to haul yourself up out of the water while wearing your weights when using this system.
The general consensus among divers is that integrated weights are superior to weight belts, as long as you are sure the pockets are going to fall out, as they can do with some BCDs. A clip system is superior to just velcro, which loses its adhesiveness over time (especially in salt water).
Some additional weight system considerations:
Back weight pockets
This weight system is located on the reverse side of the shoulders and it does a great job of evenly distributing the weight so that you can maintain effective trim in the water.
A weight belt is less comfortable than integrated weight pockets
In order for a weight belt to stay snug to your body, the belt has to be quite tight, which can get uncomfortable after an extended time in the water or multiple dives (especially if you are just diving with a rashguard).
Weight belts can come loose as you descend
This is because the water pressure is going to force your wetsuit against your body which means you will have to adjust the weight belt so that it stays in place.
Despite doing this, it is often the case that weights will end up disproportionately on one side of the belt, which can make it hard to maintain trim and good position in the water. Integrated weights eliminate these issues.
Weight belts can be inconvenient for female divers
This is because the belt needs to sit above the hips to prevent slippage, which almost always means the weight belt is going to interfere with your BCD and make everything around the waist area tight.
It can also make the belt difficult to adjust, reach or, more importantly, dump in the event you need to ascend.
Your BCD's Storage Pockets
The pocket configuration is one of the most important considerations for me when buying a BCD because it gives me peace of mind that my gear is well protected while I'm scuba diving and also gives me the option to bring more gear.
Bear in mind that a lot of wing-style BCDs aren't going to have large zippered pockets, so you will need to make sure your wetsuit pants or shorts do.
You also should factor in whether the pockets are velcro or zippers, since zippers can be harder to use underwater–particularly if you're also wearing dive gloves.
Full pockets are nice, but they influence your inflation. Understand that if you fill your pockets with gear–a camera, clipboard, flashlight etc.–all of this stuff is occupying space that would otherwise be filled with air, so you don't get as full inflation as you would with empty pockets.
Make sure that any gear you put in pockets is evenly distributed on both sides of the BCD. If you overload one side, not only will you not be able to inflate that area, but you are going to be lopsided.
The póckets on most BCDs can be a bit inconvenient to access because they are positioned around your waist. If you are scuba diving with things that you will need easy access to, it makes more sense to have them mounted to your thigh or wrist.
Your BCD's D Rings
All BCDs have at least two D rings–one on each of your shoulder straps.
They are meant for you to attach gear and items that you need to be able to quickly access but which you don't want to or can't afford to hold onto all the time.
The best BCDs, in my opinion, are those with more than 2 and that use stainless steel as opposed to plastic D rings.
Your BCD's Material
Your BCD is typically going to be made out of a nylon cordura that is manufactured with different durabilities and weights. As a rule of thumb, a higher number implies bulkier, more robust material.
Lighter materials are nice to travel with for obvious reasons, but they aren't as robust. Coated materials are designed to wick water off your BCD faster, but they are heavier.
They are still good options for travel because they dry faster and don't get as waterlogged, which is why I think the best BCDs are made with this material.
---
Reasons To Bring Your Own BCD When Traveling
If you travel a lot for diving, it's nice to have something that you've spent time and effort researching and making sure is the best BCD for your needs. It's even better if you have already tried it out and know that it works perfectly for you.
It's always just a letdown when you dive with a shop that uses BCDs you don't like–whether they don't have the pockets for the stuff you like to dive with, or because you prefer a jacket to a wing-style BCD:
I also like bringing my own gear with me because I like knowing that my safety is in my own hands. I have total control over checking the gear, and I know how it has been maintained. Most dive shops I've dove with have been quite scrupulous and treated their gear with care, but some others have left me a little uneasy.
---
Looking After Your BCD
After you are done diving for the day, there are a few things to do to make sure you keep your gear in working order and give it the longest useful life possible:
Soak your BCD in clean, fresh water for at least 10 minutes as soon after a dive as you can.
Don't forget to rinse the valves, buttons and the surface of the material.
Clean the interior of the BCD to get rid of salt crystals and debris that make their way into the BCD through the ventilation while underwater.
Make sure to empty all of the water from inside the BCD. You can do this by inflating the BCD, turning it upside down, and holding the deflate button while squeezing the BCD against your body. This will force the water out of the inflation hose.
Inspect the BCD for wear and tear after each dive. You want to know well in advance of your next dive if something needs to be fixed.
Make sure you store a BCD in a cool, dry place. Inflate it slightly and hang it up on a railing or a hanger. Always ensure your BCD is totally dry before putting it away in storage.
---
Why Investing in Good Quality BCD Makes Sense
Your BCD is important for a variety of reasons. It is the primary way by which you control your buoyancy in the water (including storing your weight system). It functions as a storage device, allowing you to attach and pocket the various pieces of gear (including secondary respirators) that you need while diving.
Spending money on something this crucial for safety and enjoyment while in the water is a no-brainer, and I hope the above guide will help you choose the best BCD for your needs, budget and dive preferences.
Related Reviews